March 17, 2022
When people think of simulation, the first image that often comes to mind is that of a silicone mannequin in a bed. Such mannequins are highly varied in form and function. They range from static human shapes for practicing CPR to high-fidelity, computer-driven simulators capable of producing pulses, heart and lung sounds and more.
While simulation technicians or facilitators can give the mannequin a "voice" by speaking into a microphone heard in the simulation space, our plastic patients are still missing a human side. That's where standardized participants (SPs) come in.
What is an SP?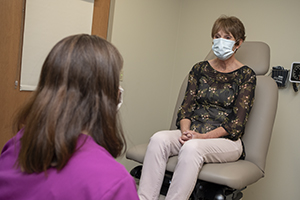 Standardized patients are defined by the Association of Standardized Patients Educators (ASPE) as, "a person trained to portray a patient in realistic and repeatable ways." 1 When the role of SP was confined to portraying patients, the preceding definition was sufficient. At the Jump Trading Simulation & Education Center, however, our SPs do much more; thus, we refer to them as standardized participants.
Besides portraying patients, SPs may fill the role of a family member, clinician, administrator or other Mission Partner. SPs bring the human factor to simulation in many situations.

What exactly is that human factor in simulation? It is delivering a calibrated performance with the goal of creating an opportunity for learners to practice different kinds of human interactions. These range from having a straight-forward conversation with a patient or clinician to breaking bad news and supporting someone through the early moments of overwhelming grief.

This is the human factor that mannequins can't deliver. Our SPs provide this element of humanity at all hours of the day and night, and in many places around the Ministry.
Who are our SPs?
Our SPs range in age from early twenties to nearly 80, and come from highly varied backgrounds. They include students who need a flexible job, homemakers, retired business executives, law enforcement personnel and educators. Others bring extensive experience in community theatre. And a few are our own clinicians.

We consistently strive to increase the diversity of our SP pool, as well as the languages spoken by those serving in these roles. Right now, we have several Spanish speakers and are looking for additional individuals who speak languages used in the communities served by OSF.
A peek behind the SP curtain
Sometimes SPs provide the human factor during simulations held in the Jump facility. At other times, they may go with the rest of the simulation team to locations throughout the Ministry for in-situ simulations, or simulations carried out in the live clinical environment.

In this case, SPs accompany the simulation operation specialists (SOSs) who set up and operate the simulation equipment and help ensure a world-class learning experience. All of these shared experiences help form tight bonds between the SPs and the SOSs, and creates a sense of family among them. This is true even though the SP role is not full time.

SPs are called prn, or "as needed" employees. This means they don't work a set schedule. It is ideal for those looking for a flexible, part-time position that provides a rich and rewarding opportunity to give back to society in a significant way.

An SP may work only a couple of hours at a time, or may log a full eight-hour day. When the latter occurs, the SP may do the same simulation with different learners all day long. Alternatively, they may fill one role in the morning and another in the afternoon.

Our SP supervisor schedules SPs based on the demographics required by the simulation and SP availability. Our SP supervisor also assists in scheduling SP training sessions.
How SPs learn their roles
When SPs have a new role to learn, the training process may take several forms. One is through formal training sessions with facilitators and SP trainers. These are typically recorded and added to the archive of training materials that are available for SPs to review at any time.

Another way training may occur is through peer mentoring. An SP experienced with a simulation role reviews a script with an SP beginning to learn it. The SP learning the role may then watch as their peer carries it out, with a question and answer session following the simulation. From there, the new SP will take on the role with support from their peer(s) who have done it before.

Portraying patients, clinicians, family members, Mission Partners, leaders and more for learners ranging from students in health care and practicing clinicians to executive leaders is a big responsibility. The role of the SP doesn't end there, however. In addition to bringing the human factor to simulations, faculty and facilitators frequently depend on SPs to assess a learner's performance, complete assessment documentation and provide feedback.
Thank an SP
SPs are unrecognized but critical participants in health professions education. When they bring the human factor to simulations of all kinds, they allow learners to practice everything from basic physical exam skills to some of the most challenging communication skills imaginable.

The next time you encounter a health care professional who seems to know just how to elicit the problem you are having and to effectively and compassionately communicate with you, offer a silent thank you to the SPs who helped prepare them to do so.

The Association of Standardized Patient Educators (ASPE) Standards of Best Practice (SOBP) | Advances in Simulation | Full Text (biomedcentral.com)