Since opening in 2013, the Jump Trading Simulation & Education Center has grown into a world-class medical simulation and education center. Spread across 168,000 square feet on six floors, Jump, a part of OSF HealthCare, is one of the largest specially built medical simulation and innovation center in the country. Located in Peoria, Illinois, Jump is home to OSF Innovation division and Jump Simulation.
Bradley University recently completed a study analyzing the impact Jump has had over the last decade, both economically and non-economically, on the areas it serves.
The results articulate the impact the facility as an economic motor, driving income and spending throughout Illinois by creating jobs and commerce, providing medical education and training, and generating research and grant activity.
Study Results
Over the ten-year period from 2013-2022, Jump activities enhanced economic activity by over $103 million and created more than 600 full-time jobs.
"If we include the original 2012-2013 construction expenditures for the entire physical building into the analysis, the total economic impact is $180 million with more than 1,000 jobs created," said Joshua Lewer, Bradley University Economics and Finance Department chair. "It is important to note that Jump has not yet approached its long-run full operating capacity. So these numbers will only continue to improve. We believe Jump has demonstrated its strength as an economic engine for the communities it serves."
Operational Impact: Total Output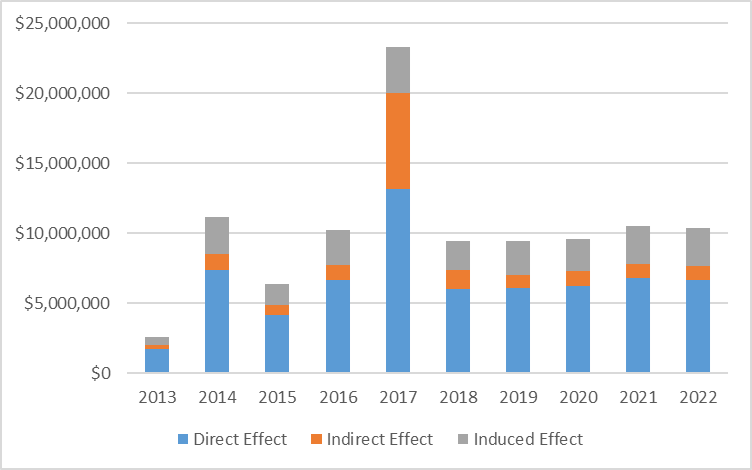 "Jump was the catalyst for OSF to lead revolutionary change in health care through innovation and faith as we made it our vision to transform health care to improve the lives of those we serve."
Dr. John Vozenilek, VP and chief medical officer for Innovation, OSF HealthCare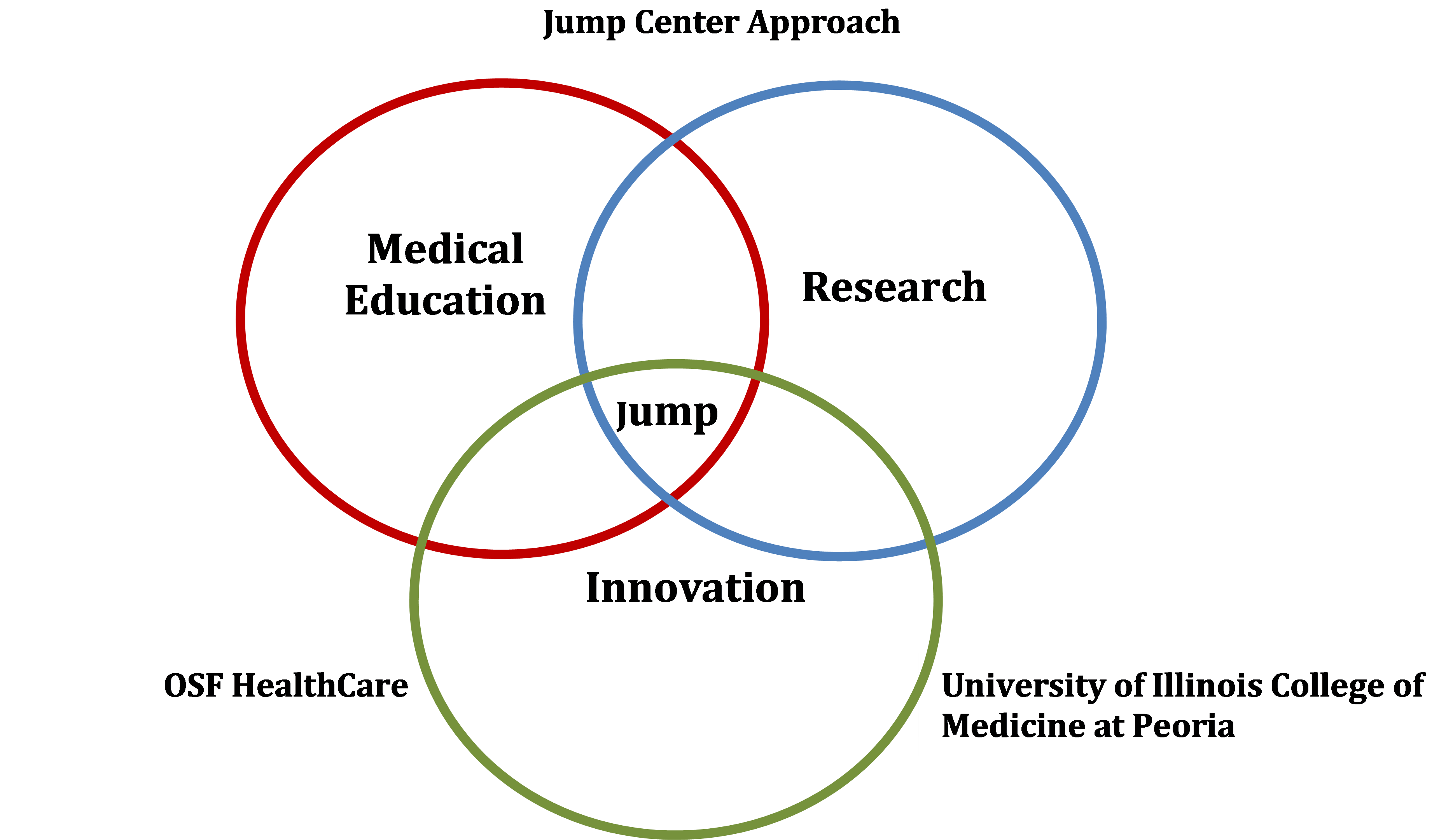 OSF HealthCare launched OSF Innovation within Jump in 2016. The idea was to bring multidisciplinary teams together to generate and adopt solutions to advance health care. Today, OSF Innovation is integrated across all 15 hospitals in the OSF HealthCare Ministry.
The report, linked below, provides additional stats on details from across the various work hosted and empowered by OSF Innovation at Jump:
Medical Education: More than $1 million in validated cost savings and more than $10 million in cost avoidance
Jump STEAM: Sparking a passion for medicine in more than 8,000 learners and counting
Simulation-based Education: Over the last 10 years, Jump has hosted more than 1.1 million learner visits, supported 9,350 in-situ learners and guided more than 72,000 total learners at simulation events at Jump
Jump Medical Visualization: 21 mobile apps developed accruing more than 100,000 installs
Research Publications: Completion of 70 research studies and 48 publications cited more than 230 times
Academic Collaboration: Four academic partnerships serving more than 137 research projects
Bioengineering: Partnering with more than 100 physicians to introduce novel approaches to patient care. Providing 3D segmentation services to 374 patient cases
Performance Improvement: 523 Rapid Improvement Model projects empowering Mission Partners to drive process improvement in their area
Digital Innovation Development: Screening 4,450 patients for social needs in novel care platform
Innovation Studios: Six Trailblazer Challenges completed yielding more than 550 idea submissions and 12 new concepts in development
Innovation Labs: Eight Labs dedicated to exploring, developing, test and scale solutions to achieve the goals of our focus areas.
"I came to OSF HealthCare for the chance to build a one-of-a-kind center to not just train health workers of the future, but to re-create health care as we know it," said John Vozenilek, MD, vice president and chief medical officer for Innovation at OSF HealthCare. "Jump was the catalyst for OSF to lead revolutionary change in health care through innovation and faith as we made it our vision to transform health care to improve the lives of those we serve."
In the first decade of operation, Jump and OSF Innovation became one of about a dozen health care sites converting two-dimensional images of the heart into exact 3D printed replicas for surgical planning and partnered with the state of Illinois to create the Pandemic Health Worker program to digitally care for people with COVID-19 across the state. This included launching the OSF OnCall Digital Hospital and receiving $66 million, along with OSF OnCall to improve access to health care and address the social needs of those living in underserved areas using digital solutions.
Access the full Impact Study Here
You can learn more about the endless possibilities and exciting work taking place at OSF Innovation and Jump Simulation by visiting their websites.