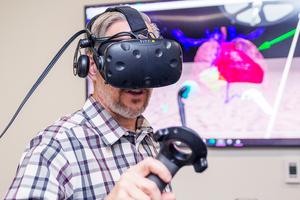 As a surgeon, many of us believe we are pretty good at converting 2D images from CT and MRI scans into 3D images in our minds. And this is partially true. This is how we are trained and how many of us have practiced for years.
Sometimes we are accurate. And sometimes we get into the operating room and find issues we weren't expecting. At OSF HealthCare Children's Hospital of Illinois, we are eliminating much of that guesswork by using virtual reality (VR) to view anatomy and plan for surgeries on our smallest patients.
This has become a game-changer not just for young patients with heart defects, but for those with different types of tumors. In my role as a pediatric surgeon, I handle patients with chest, abdominal and pelvic tumors. After using VR for the first time in early 2021, it's my goal to run each of my cases through this technology for pre-surgical planning.
An eye-opening experience
I was intrigued by the idea of using VR for pre-surgical planning after learning of its use for adult oncology cases. When I tried it for the first time, it was an eye-opening experience. Parts of the anatomy were more striking. Anatomic relationships were much clearer. I could see the relationship of the tumor to surrounding critical structure in three dimensions. And overall, my confidence grew when I went into the operating room.
It's difficult to quantify how much safer using VR makes a surgery, but I truly believe it does. In one case, I had a patient with a large adrenal tumor that was displacing the kidney so much that it stretched out a major renal artery to the point where it looked like a strand of spaghetti.
By looking at this tumor in VR, I recognized the artery quickly, where it was located and how to avoid injuring it during surgery. Had I not viewed that within VR, I could've easily mistaken that artery for a small blood vessel, leading to issues in the operating room.
In another case, VR changed my perception of a pancreas tumor. This gave me a better understanding of which parts of the growth I could remove while still protecting the structures around it. Other members of my team are also using VR to pre-plan for surgeries where they improve chest wall deformities in children.
In addition, we are using VR to help families understand our surgery plans. We can show them what the tumor looks like, things we are watching out for and structures we want to avoid. As part of a study, we are determining whether this gives families a better idea of what will happen during an operation.
The standard of care
Preliminary reports show that surgeons are changing their surgery plans after using VR more than 50% of the time. This includes choosing to use a different approach or incision, deciding to remove more or less of an organ involved with a tumor or even determining a tumor is inoperable. We will present our data at the American College of Surgeons meeting this October.
Using VR for surgical planning in children with heart defects has become a standard of care at OSF Children's Hospital. We are doing the same for young patients with chest, abdominal and pelvic tumors. I personally feel more prepared going into a surgery on the cases where I've been able to use VR ahead of time. It is a huge advantage not just for other surgeons like me, but for our families who are benefitting from this technology.
FEATURED AUTHOR
Daniel J. Robertson, MD