Medical Visualization is expanding access to an app that trains clinicians to use a crash cart.
MAY 6, 2021
When faced with an emergency, the last thing clinicians need to be concerned about is whether their crash cart is fully equipped. As a result, it's become standard procedure for hospitals to routinely inspect and secure a cart's life-saving equipment, medication and supplies. This ensures the readiness of the medical tool.
"While this is great to improve patient safety, it is an ongoing barrier to medical professionals and trainees who need to familiarize themselves with the cart," said Kyle Formella, director of Medical Visualization (MedVis) for Jump Simulation. "The cost to break the locks on a crash cart and re-stock it make it difficult for learners to access the tool."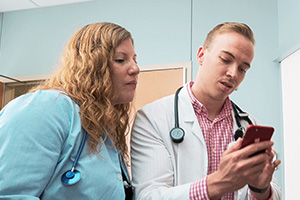 In 2018, MedVis worked to fill this gap in education. In collaboration with a pediatric physician, our team created an augmented reality-based pediatric crash cart app. The platform allows medical students and professionals to easily learn about the cart's contents, how it works and how to use it in the event of a pediatric emergency.
The app's success led us to develop another version, a new app intended to accommodate any type of medical cart, whether it be a crash cart, anesthesia cart or other medical containers. The platform is not only available to clinicians within OSF HealthCare, it's also now being offered to hospitals across the U.S.
Medical Cart AR
Much like the pediatric code cart app, the Medical Cart AR app uses augmented reality to scan a user's environment to project and simulate a fully stocked virtual medical cart from a mobile device.
"From there, we've given learners the freedom to explore every item within the cart. They can test their knowledge with a module called Timed Challenges. And users can work with Quick Search mode for faster reference to the cart's objects," Formella said. "The new app also comes with the ability to select multiple types of carts to study, including adult or pediatric crash carts, airway carts or chest tube carts."
The Medical Cart AR app intrigued leaders at the University of Alabama at Birmingham (UAB) Clinical Simulation who were looking for a more individualized and mobile way to conduct this training. They worked with our group to mock up carts for their hospital and education system. Since March, they have been successfully using the app among nurses, respiratory therapists, pharmacists, medical students and physicians.
"We appreciate that our learners can access and train on this app anytime, anywhere and for as long as they'd like," said April Belle, DNP, RN, CCNS, director of In Situ Simulations at the UAB Clinical Simulation. "This decreases the amount of human resources it takes to load and stock our simulated crash carts. It also reduces the risk for simulation medication or supplies to enter actual patient care areas, which is a huge safety concern."
Belle says the process to create UAB-approved carts for the app has been easy and well-organized. Those who've had the chance to try the platform enjoy the convenience of having it on their own mobile devices.
"What we have heard from our users is that they feel less pressure when they are able to review their carts from the app as opposed to a classroom environment," said Teldra Thomas, clinical simulation specialist at the UAB Clinical Simulation. "They also feel much more prepared for a code situation and believe the mobile training reduces stress."
Expanding access
We're excited to continue offering the Medical Cart AR app to other health care institutions. As we expand accessibility, we hope the use of this app will improve outcomes for patients around the country.
As a user experience designer, I hope to continue iterating and improving on the app to make it even better for learners. If your hospital system or university is interested in subscribing to the Medical Cart AR app, please contact Meghan Brignadello for more information.
FEATURED AUTHOR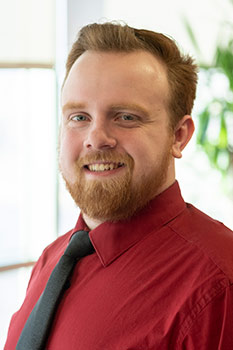 Jakob Plotts is a User Interface (UI) and User Experience (UX) Designer for Jump Simulation. As part of the Medical Visualization team, he designs visual and interactive interfaces for mobile apps, web-based apps, virtual/augmented reality solutions (VR/AR) and other media with the goal of creating innovative medical and clinical education. He started his journey at Jump as a UI/UX Design Intern.

Jakob received his Bachelor's in Interactive Media with a focus on UI/UX Design from Bradley University. During this time, he worked on many innovative projects including SUITS for NASA which involved designing augmented reality (AR) interfaces for next gen space suits. He also worked with the Innovation Team of Peoria, IL on UX research toward solutions for supporting local businesses.