Design Lab interns at Jump are well on their way to developing a comprehensive plan to improve pediatric and adult vaccination rates.
AUG 26, 2021
We've celebrated and sent home our first set of summer interns. However, we still have one group of college students sticking around with us until the end of the year. Their task? To develop a comprehensive plan to improve pediatric and adult vaccination rates, which have dropped significantly over the past year.
It sounds like a lot, but the students are receiving direction and help the Design Lab, the Children's Innovation Lab, the Interprofessional Education Lab and the Data Science and Advanced Informatics Lab. They are also getting assistance from the University of Illinois Urbana-Champaign (U of I), Illinois State University (ISU), the University of Illinois College of Medicine Peoria (UICOMP), OSF Faith Community Nurses and street medicine teams.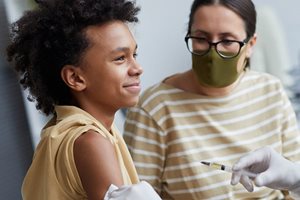 Through December, three design interns are working on artificial intelligence (AI) software platforms that will identify areas of under-immunized children. This project will use the data collected from that software to direct a mobile vaccination community health program that provides free routine vaccinations to children in high-risk areas.
Another effort is to reach out, engage and educate underserved populations on the importance of pediatric vaccinations. And the third project underway is to use a hybrid predictive model developed at the U of I to address COVID-19 vaccination hesitancy among rural communities.
Halfway there
As part of the overall project, the design interns are helping collect and analyze information gathered at pediatric and adult vaccination events at not-for-profit organizations and other facilities.
During these events, professional health care teams offer medical exams and recommend vaccinations. One recent opportunity drew several hundred participants.
"We had a line of people that was a block-and-a-half long to take advantage of this opportunity, with some even waiting in the rain," said Kyle St. John, a senior user experience design major with a graphic design minor from Bradley University. "It was a great first event. We learned a lot and now know how to refine the next vaccination offering."
Another intern based in Chicago is working with the computer science team at the U of I to curate data for the purpose of creating unique heat maps that will visualize and present pediatric vaccination rates. They will also display high rates of vaccine hesitancy.
"We are using disparate data from across the country to build an artificial intelligence model that health care professionals can use to concentrate mobile vaccination efforts by state, county and ZIP code," said Matthew Selvaraj, a computer science and pre-med major from the University of Illinois Chicago. "We are currently processing data into a form that will be easy to read."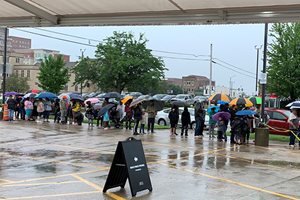 Lastly, the research team is applying national data to develop a hybrid predictive model to simulate potential COVID-19 hospitalizations and fatalities in the future by state and county. The idea is to easily identify areas at high risk for COVID-19 infections. The model will also show rates of COVID-19 vaccine hesitancy that includes the main reasons people are uncertain about the preventive shot.
"We want to design outreach efforts, materials and educational programs that feel personal and address the issues individuals are most worried about when it comes to the COVID-19 vaccine," said Spencer McDaniel, a senior user experience design and psychology double major from Bradley University. "As a result, we are sending out surveys and interviewing people to understand why they are vaccine hesitant."
A collaborative effort
Our research faculty and clinical leaders have been impressed by the progress our design interns have made so far. It wouldn't be possible without partnering with our own medical professionals at OSF and collaborating academic institutions.
As the delta variant of COVID-19 continues to spread throughout the world, the work our interns are doing is more important than ever. It's my hope that their dedication and innovative minds will make a positive impact in the ongoing fight against this virus and any potential variants that may emerge.
FEATURED AUTHOR

Scott Barrows was previously vice president of marketing at a biotechnology laboratory in Virginia, and vice president of creative at a medical software "think tank" in Nevada. Barrows is a clinical assistant professor of emergency medicine at University of Illinois College of Medicine Peoria and retains the role of clinical assistant professor in biomedical visualization at the University of Illinois at Chicago. He was also an assistant professor at the University of Texas Southwestern Medical Center in Dallas. Barrows has been the recipient of numerous awards, including recognition from two U.S. Presidents, the Smithsonian Institution and the University of Illinois.