Jump Simulation is working with the Ministry's Organizational Development department to take the uncertainty out of these discussions using simulation
February 17, 2022
Regardless of how long you've been in a leadership position, it's never easy to have difficult conversations with members of your team. You can have all of the tip sheets on how to deliver positive discipline and learn all of the best practices on coaching. But until you are in the moment, you don't know how one of these exchanges will go.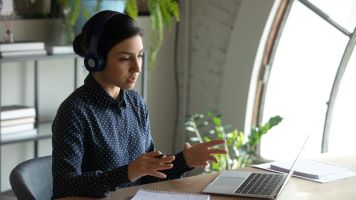 Jump Simulation is working with the Ministry's Organizational Development department to take the uncertainty out of these discussions using simulation. As part of quarterly leadership development meetings, we are introducing leaders to education around the best ways to handle difficult conversations. They can then sign up to apply what they've learned in virtual simulated conversations with standardized participants (SPs).

"A lot of times when leaders have difficult or coaching conversations, the only two people in the room are the leader and the Mission Partner who is being coached," said Tiffany Nieman, the manager for Organizational Development Operations. "So, it's hard to determine how it went. We saw this as an opportunity for leaders to get feedback on their performance."

The goal is to help new and experienced OSF HealthCare leaders enhance their communication skills and become better managers as a result.
How it works
Jump and Organizational Development kicked off this effort in the Eastern Region where 15 leaders signed up to participate. The managers worked with Jump to write up conversations they intend to have with Mission Partners that include both best and worst case scenarios.

Those dialogues were then shared with SPs to carry out.

"We allotted 20 minutes for leaders to practice their individualized coaching conversations with SPs," said Nieman. "The SPs were phenomenal and really embraced their Mission Partner personas. Our leaders were impressed with the opportunity."

After the sessions were over, SPs offered feedback on how the conversation went. The recorded discussions were also shared with mentors from Human Resources to provide further assessment.

"We received a great response from the leaders who participated in these simulated conversations," said Nieman. "For us, it was a great chance to give our leaders the practice they need to build confidence when dealing with these difficult talks with Mission Partners."

The intent is to continue offering these opportunities for practice during leadership training meetings across the Ministry. We are also offering difficult conversation simulations during new leader orientation.
Simulation: a better way to practice
There's been the misconception for a while that leaders can practice difficult conversations with each other. But we have found that it's hard for colleagues to step out of who they are and play that Mission Partner a leader needs them to be. In addition, it's hard for them to provide feedback if a conversation doesn't go well.

That's why Jump and Organizational Development saw such a huge opportunity in using simulation to build communication skills. Having an SP who can embody a Mission Partner and pivot how they respond to difficult conversations makes a difference, and helps leaders prepare for any situation that comes their way.
Featured Author



Nikki Delinski , DNP, MSN, RN, is the Director of Educational Operations for Jump Simulation where she is responsible for the operational efficiency of the simulation center and sustaining quality education best practices. Nikki started her nursing career in Cardiovascular Intensive Care where she found her true passion for education.