Dr. Vozenilek reflects on how we are providing full-scale Emergency Medical Services scenarios using the resources at Jump.
October 7, 2014
With so many educational programs and so many learners constantly moving through Jump, something like what we did last week may have easily been overlooked.

I am so impressed by what I saw happening inside of our Regional Transport Center, I thought I would take a moment to reflect on it.
Strengthening Skills to Save Lives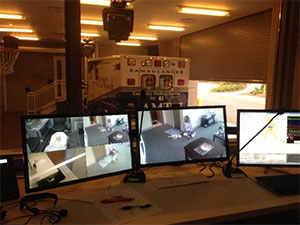 We thank God that life-threats to our children are relatively infrequent in our community. Out-of-hospital pediatric cardiac arrest is blessedly a rare event.

We have remarkable systems in place to respond to such needs, but like your muscles, those systems and skills get stronger when exercised.

One of Jump's community connections is through Emergency Medical Services training. Using the technology at Jump and excellent faculty-facilitators like Dr. Trina Croland, we are providing full-scale EMS scenarios which start with an emergency call by a frantic parent in the home and are completed by transporting the patient to the virtual hospital. This live-simulation exercise is being held to support Peoria Area EMS paramedic providers and is just one of many events to come.

For this scenario, we use actors and actresses to play the roles of parents who have discovered that their child is in critical danger. The real paramedics respond to the scene (our home setting within Jump) and stabilize the child.

The paramedics use real equipment and monitoring devices as they would in the field. They continue the resuscitation of the pediatric manikin in the ambulance and are virtually transported via simulation.
Optimizing Systems of Care to Improve Safety
After each scenario, peers and faculty like Dr. Croland provide feedback to reinforce what was done well and to consider ways in which the systems of care can be optimized.

This program is a direct connection to our community through the excellent work of these providers. As they "exercise their muscles" at Jump, our safety as a community improves.
Featured Author

John Vozenilek, MD, FACEP is the Vice President and Chief Medical Officer for Simulation at Jump. Dr. Vozenilek provides central coordination and oversight for OSF HealthCare undergraduate, graduate, interdisciplinary, and continuing medical education programs.