January 20, 2022
Sister M. Pieta Keller, Tate Ralph & Shannon Egli
A dislocated finger. An abscess. An ingrown toenail. All of these ailments are a literal pain. But they aren't significant enough to warrant a trip to the emergency room. Your next bet is to go to a facility where you can be treated quickly like an OSF OnCall Urgent care.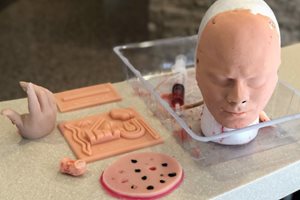 Staffed by advanced practice providers and other clinicians, these clinics treat minor illnesses and injuries where and when you need it. Our advanced practice registered nurses (APRNs) and physician assistants (PAs) participate in regular skills training where they practice managing everything from dislocated joints to never-ending nosebleeds.

As part of these efforts, our APRNs and PAs enhance their expertise by using task trainers made by our Jump Simulation engineers and others that replicate a variety of conditions that can occur from head to toe and everything in between. This hands-on training helps providers build their skillset and increases confidence to handle just about anything.
How task trainers come to be
For OSF OnCall Urgent Care, clinical directors and lead providers meet and go over what types of cases commonly present at the urgent care clinics. They then determine what skills and tools providers may need to perform procedures safely and with competency and confidence.

"If we believe our learners could benefit from a new task trainer, we work with Jump engineers to build one as opposed to buying new items on the market," said Susan Wolf, a clinical director with OSF OnCall Urgent Care. "Many times, our engineers have the skillset to produce tools that are just as good if not better than what's being commercialized, and they can do it at a fraction of the cost."

Our Jump engineering team has worked with clinical leaders to create a number of different task trainers for nurses, advanced practice providers and others at OSF OnCall Urgent Care. These include tools that give clinicians the chance to cut and drain abscesses, remove ingrown toenails, extract ticks, reset bones, biopsy skin lesions and stop nosebleeds.

"The trainers are made to be as realistic as possible," said Wolf. "The abscesses have little pockets of simulated bacteria. The skin around the ingrown toenail is red and swollen. We even have a full-sized manikin head that has non-stop nosebleeds."
Impact
Clinical leaders typically offer up to ten task trainers for providers to practice on during a regularly scheduled skills day. The idea is to help advanced practice providers build their muscle memory in a safe learning environment.

"They get real-time feedback from faculty members without feeling like they are being judged," said Wolf. "So this really is safe space to make mistakes and ask any questions they may have. In many cases, our learners say they feel more confident after practicing on these trainers."

For patients, this means they don't have to go to the ER or wait to make an appointment with a specialist to deal with their issues. They can go to an OSF OnCall Urgent Care and get their needs met in a fast way.