July 7, 2022
When Knox College student, Brisa Rubalcava, was in elementary school, she told classmates and anyone who would listen that she wanted to be a pediatrician when she grew up.

"I can't explain it. No one in my family is in health care and I will be the first in my family to graduate college," said Brisa. "That idea has always just been there."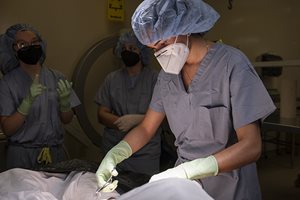 As she transitioned through high school, college, internship opportunities and studying to be an emergency medicine technicians, not much changed. The biochemistry major is still set on becoming a physician. But now, she's keeping an open mind about what specialty to pursue.

That's due to her participation in the University of Illinois College of Medicine Peoria Pre-Med Immersion Program at the Jump Trading Simulation & Education. The two-week medical boot camp, led by OSF HealthCare and UICOMP faculty, opened Brisa's eyes to opportunities she never would've considered. It also helped her realize her potential in medicine.
Tell me about your experience during the Pre-Med Immersion Program?
I came into Jump thinking I would become a pediatrician, so all I really wanted to do was see what pediatricians do. But we got the chance to experience a little bit of everything medicine has to offer. That includes learning how to intubate, perform ultrasounds, read EKGs, suture cuts and other wounds, take part in simulations and work with a cadaver. Trying out all of these different things was truly amazing and a once in a lifetime opportunity.
Was there a particular experience that provided an "a-ha" moment for you?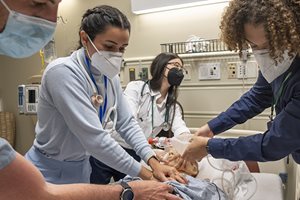 We were running an emergency simulation and our patient was crashing. His stats were dropping and my teammates were trying to determine what to do next. Before I knew it, my training to become an EMT kicked in and I started leading the team on what to do next. And then I started chest compressions. This not only opened the door to emergency medicine for me, it also made me realize I am so much more equipped than I thought myself to be. I've always had doubts about my ability to perform as a doctor or be in these types of critical situations. But taking lead and getting our patient back was a nice affirmation that I can do this.
It was very special moment for me.
Was there anything that surprised you?
What surprised me was working with a human cadaver. I never thought I would get that experience until medical school. Getting to do that as a pre-med student is almost like a treasure. It's very humbling to know that people donated their bodies so that medical students can learn to save lives. For me, that was a very special moment.
Do you still want to be a pediatrician?
I would love to work as a pediatrician because I love working with kids and it really fits with my personality. But I also really liked emergency medicine because it's all about critical thinking and working with a team to solve a puzzle. At the end of the day, I want to enter medical school with an open mind. I want to rotate through different specialties and see what really works for me.
How has this experience solidified your path to medical school?
It was an absolutely amazing and enriching experience. It's not just the hands-on activities you do, it's also the people you are surrounded by. Taking part in the Pre-Med Immersion Program made me realize there is nothing else I want to do in life except medicine.
What's next for you?
This summer, I will study for the Medical College Admission Test (MCAT) and I just accepted a job as a medical scribe this summer. I also plan take the EMT National Registry Exam and work as an EMT while I apply to medical schools. I hope to get accepted into UICOMP.
STEAM programming
The UICOMP Pre-Med Immersion Program is part of a broader initiative to cultivate and train the clinicians of the future. If you are interested in learning about all of our Jump STEAM programming for third grade students all the way up to pre-med, visit our website.
FEATURED AUTHOR

Denise Molina-Weiger is a Creative and Digital Writer for OSF HealthCare, where she has worked since March 2015. She initially came to OSF to write about the work taking place at the Jump Trading Simulation & Education Center, one of the largest simulation and innovation centers in the world, and went on to become the Media Relations Coordinator for OSF Innovation which was developed to help the hospital system lead the way in transforming care. Before joining the OSF HealthCare team, Denise was a reporter for Peoria Public Radio for ten years, writing on everything from politics, housing and transportation issues to hospital care in the region.