OSF HealthCare is using simulation to help providers build relationships with their patients.
May 13, 2021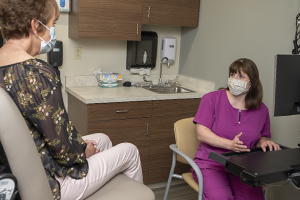 Medical professionals are often trained not to get too close to the people they serve. This is not just to remain objective but to protect themselves from emotional burnout. What they don't consider is how this standard of care impacts patients.
A critical care physician at Henry Ford Hospital in Detroit, Michigan, helped some OSF HealthCare clinicians change that perspective during a visit to Peoria. Dr. Rana Awdish shared what it was like to be on the other side of care when she nearly died at her own hospital. Her team of clinicians saved her life, but not without inflicting emotional pain.
"We put together a 20-person team, gathered information from organizations doing this kind of work and collaborated to design the Connections program," said Dr. Sarah Zallek, a physician and course director for Physician Communication. "We aim to give our providers the communication skills they need to feel compassion, build trust with patients and ultimately improve clinical outcomes."
With help from Jump Simulation, a part of OSF Innovation, the two-part class includes simulations where clinicians can practice what they've learned with standardized participants acting as patients.
Communicating better
"As providers, we are taught to ask the right questions to make a diagnosis, make decisions analytically and then deliver a care plan to patients they are expected to follow," Dr. Zallek said. "We don't really get too personal, which can come off as cold or uncaring by individuals receiving care."
The Connections program helps clinicians work collaboratively with a patient and see them as a whole person.
"It means not turning your back on your patient as you type on your computer. It means asking open-ended questions and listening actively to ensure you aren't missing critical information," said Dr. Zallek. "It means aligning your recommendations to your patient's goals."
In one simulation, a grandmother comes to a medical office with a variety of chronic conditions. She's lost her daughter and is now taking care of her granddaughter.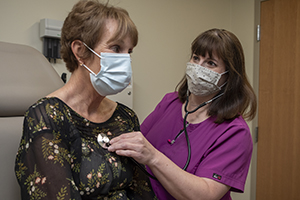 "When the provider says, 'How can I help you?' I start discussing my illness, but I also share some tidbits about my life that can be impacting my health," said Diane Brummit, a standardized participant at Jump. "This is called a call for compassion. What we're looking for is how the clinician responds. Are they asking me to tell them more, or are they rushing to learn what's wrong with me?"
If the clinician asks more open-ended questions, Diane, as the patient, offers more information that helps the provider learn more and make the right care recommendations for the patient. After the simulation is complete, the standardized participants share with their provider whether they were able to establish a trusting relationship as well as other feedback that can be helpful.
The simulation and the ability to practice what they've learned helps clinicians build these communication skills into their daily practice.
"We would not be able to do this program as effectively without standardized participants," said Dr. Zallek. "I can't tell you how many experienced providers have said this experience has changed how they practice."
More than 100 clinicians have gone through the Connections program. And there are plans in place to add advanced courses to improve communication skills with patients and amongst each other.
A renewed normal
For decades, doctors, advanced practice providers, nurses and others have learned to get just enough information from patients to diagnose and treat illness. But OSF HealthCare has learned the minimum is not enough.
Improving communication skills builds trust with patients and leads to a more fulfilling experience for the providers. It's a renewed normal for OSF clinicians.
Featured Author

Denise Molina-Weiger is a Creative and Digital Writer for OSF HealthCare, where she has worked since March 2015. She initially came to OSF to write about the work taking place at the Jump Trading Simulation & Education Center, one of the largest simulation and innovation centers in the world, and went on to become the Media Relations Coordinator for OSF Innovation which was developed to help the hospital system lead the way in transforming care. Before joining the OSF HealthCare team, Denise was a reporter for Peoria Public Radio for ten years, writing on everything from politics, housing and transportation issues to hospital care in the region.