Description
Submissions open through Monday, January 29 at 5pm.

The Innovation for Health Partnership (IFH) is designed to create a robust, collaborative research community among employees at two of Peoria's largest and most impactful nonprofit institutions: Bradley University and OSF HealthCare.
This Request for Proposals (RFP) calls for connecting faculty scholars from Bradley's five colleges to work with clinical researchers and health care providers from OSF to address medical and health care challenges within and beyond the Greater Peoria area through innovative, interdisciplinary solutions.
The primary themes for IFH
Social determinants of health
Health literacy
Precision medicine and cancer-related research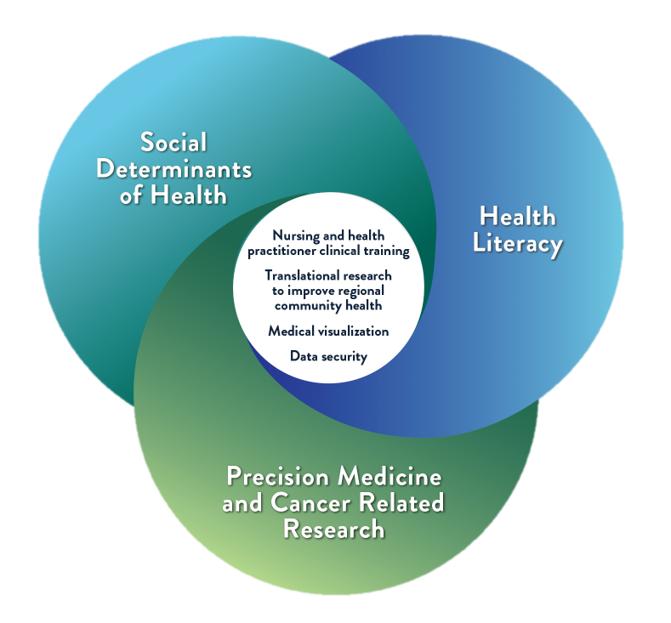 These themes intersect with the partnership's current areas of interest: nursing and health practitioner clinical training, translational research to improve regional community health, rural health, medical visualization, and data security.
Innovation for Health (IFH) awards are 12-month commitments with budgets up to $50,000.
Two application cycles are anticipated to open bi-annually in Summer and Winter.
Goals
The IFH partnership aims to generate meaningful, applicable knowledge that can be translated from scholarly discoveries, studies, and insights into practice.
Bradley University and OSF HealthCare will work together to advance local and regional community health outcomes. This relationship will leverage the clinical expertise of OSF and the diverse scholarly backgrounds of Bradley's faculty.
The partnership seeks to advance medical education and simulation, prevention, treatment, the quality of patient care, and the reduction of health care costs. Given Bradley's strong commitment to experiential learning, the partnership will allow faculty to engage their talented students in impactful applied interdisciplinary research.
To achieve this goal and promote collaboration between OSF HealthCare and Bradley University, we encourage applicants to inquire about facilities or technologies that they cannot access at their home institution applicable to their project.
Examples of facilities and technologies may include simulation areas, robotics technology, 3D printing, or other prototyping and manufacturing needs.
View these facilities on the Peoria NEXT Innovation Center and Jump Trading Simulation & Education Center Peoria websites to learn more.
Hands-on learning opportunities associated with solutions-based research will aid Bradley University's student recruitment efforts and encourage its graduates to remain in the greater Peoria area and Central Illinois to serve in the growing health care field, including at OSF HealthCare.
The visibility of the research will also aid in the recruitment and retention of Bradley faculty and OSF HealthCare Mission Partners.
For questions on the submission of the application, please contact Megan Springer, Project Manager for Academic Collaborations at OSF HealthCare or Dr. Brad Andersh, Director of Sponsored Programs at Bradley University.